Who knew a failed (5th) marriage and several bad tattoo decisions would lead to a short 5 minutes silly documentary?! And, who knew that short film would eventually lead to several film festivals?!?
LOL
My dear friend Ted Kelly, took cell phone video and other video footage and edited a short movie to tell the story how a bad tattoo choice eventually led to a cover-up tattoo on my right forearm that reads –
" Pistachio Forever"
For those of you who don't know, in May of 2014, I tattooed my (at the time) soon to be wife's name "Stacia" on my right arm, and then also tattooing her name (in different designs) several other places on my body. We married in June 2014 and what I thought was going to be a marriage that would last "Forever" ended in 2018 (Stacia moved out and filed for divorce). The end of my marriage was sad, but I also had the additional problem of coming up with several tattoo cover-up ideas. To date, 1 tattoo (my left ring finger) was taken off with 2 treatments of injecting acid under my skin – I don't recommend this procedure, as it is pretty painful.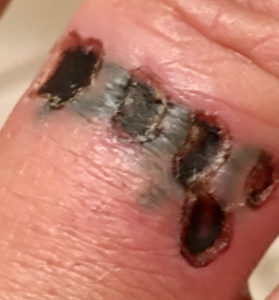 3 of the tattoos had very easy fixes and were covered up with a little extra ink.
5 tattoos still need to be covered up. All 5 will be pretty difficult to fix. 1 of the 5 will be downright scary and painful to fix (anyone who knows my show, knows which one I'm referring to – LOL)
This leads me to Pistachio Forever…… The tattoo on my right forearm was really big, taking up 80% of my arm. I had no idea what to do with it. One day while discussing ideas, a friend in the Dallas area,
Mark Maggiore, JOKINGLY suggested I change Stacia to Pistachio. We both laughed, and although I know he was kidding, I thought it was worth considering. The first thing I did was discuss it with my son. The next thing I did was to discuss it with my friend Ted. Ted also thought it was a funny idea and while we were talking on the phone, Ted could hear my son talking some trash about my bad choices. Ted immediately told Dax (my son) to record himself every time we started discussing tattoo options.
One day while Dax was playfully giving me a hard time, he pulled up the phone and started recording our discussion about Pistachio as a possible fix. He recorded several conversations and then sent Ted all the video footage.
In late 2021 I was in Phoenix performing at either CB Live or the Tempe Improv (I don't remember which) and when the run was over, I made my way to Chandler, AZ – Hot Rod Tattoo, to have Mario change Stacia to Pistachio. It was a long session, going well over 5 hours. At Ted's suggestion, I recorded the session with a camera and on FB live streamed some of the session using my phone. Once done, I sent Ted that video footage too. Once the tattoo was completed, I started talking about it on stage, during my shows. I finally sent Ted some stage video footage to go along with all the other video I sent to him.
One day Ted called me to say he had edited all the footage into a 5 minute short documentary. I thought that was a funny idea. Then Ted told me he submitted the video to SEVERAL film festivals (all over the world). I thought he was kidding!    He wasn't !!!
A few weeks later we started getting responses from some of the film festivals. The first 3 responses were rejections. Neither one of us was upset or surprised, because we really didn't expect to have any festival accept our little movie. Then we were shocked when the "Lift-Off Global Network" film festival from London accepted our film.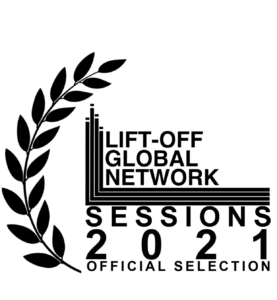 Next we were equally shocked when we were accepted for a 2nd film festival by the "Scream It Off Festival"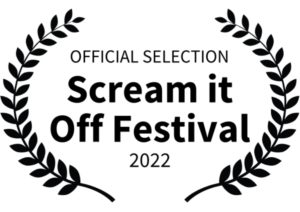 But the 3rd film festival to accept our movie shocked us the most. The Cordillera Film Festival in
Reno, NV not only accepted our movie, but scheduled it to play in one of the main theaters on Saturday July 30, 2022 during the "Nevada Block" of short movies.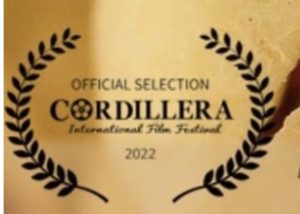 I was just finishing performing a show for a company in Hershey, PA on July 26 and would be performing in Tempe, AZ at the Improv starting on Aug 4. So I had time stop in NV to attend the Cordillera Film Festival and to spend several days hanging out with Ted and Susan (Ted's wife).
We spent the entire weekend at the Film Festival. Everyone there was incredibly nice and welcoming. There were film makers there from all over the world. Chances are pretty good, that I was the only one in attendance that was, at best, an accidental film maker who never set out to make a movie.
One day Ted insisted I walk the "red carpet". It wasn't something I was interested in doing, but he thought it was a nice idea and would make a good pic / memory. Reluctantly, I stood on the carpet and let him take a pic.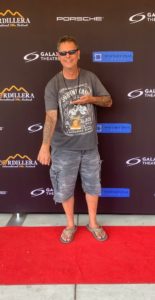 Saturday finally arrived. I went with Ted and Susan to the theater and we all sat in the "film makers" section. The theater was completely sold out. It was so bizarre to see hundreds of people in a theater to watch a block of 8 short films, including our silly movie.
Our movie was mostly shot on a cell phone, so Ted had to send the film to a production company to have them "Upscale the footage" so it could play on a huge theater movie screen.
Here's where things got really strange / funny for me. Some of the film subjects that played in our block (and the first 4 films that played before ours) included:
1. The USS Indianapolis sinking by the Japanese at the end of WW2 – more than 80% of the crew died
2. An adult son, coping with the pain and confusion of his parents developing Alzheimer's
3. 2 sisters; 1 wanted a child but couldn't get pregnant. The other wanted to be the surrogate. The sister
who wanted the baby told the other sister she couldn't be the surrogate, causing the sister to have
a complete meltdown, complete with crying, sobbing, and evaluating the meaning of life
4. A woman with 2 pre-teen sons. While taking them to the park, one son fell to the ground and died
suddenly. The rest of the film was of the mother searching the globe for ways to cope with the loss
of her son
5. PISTACHIO – A LOVE STORY
It could not have been more awkward nor could it have been funnier to be placed in 5th position, after 4 very serious and emotional movies. Not only was our film not like the others, it felt like the entire audience wasn't sure what to make of it. There were definitely some laughs, but I could feel the audience struggling to make sense of a movie about a bad tattoo decision.  BWAHAHAHAHAHAHAHAHA
At the end of the 8 film block, ALL the film makers were asked to stand at the front of the theater for a
q & a
Ted and I headed to the front along with everyone else to answer any possible questions about "Pistachio".
Question 1 – What was the motivation behind the making of your movie?
I will assume you can guess some of the answers given from the 4 movies I mentioned earlier..
My answer – Ah, I thought she was the one. I thought tattooing Stacia all over my body was as safe idea. Once she divorced me I was trying to come up with tattoo cover up ideas. It turns our I absolutely Love Pistachios and in all likelihood, I will love them Forever.
(Once again, I could feel some confusion from the audience. They didn't know if I was serious or joking and didn't know what to think)
Question 2 – What do you have planned for your next project?
Everyone had some film project in the works and they were thrilled to talk about their bright prospects going forward.
I did NOT say (but wanted to); My next film project will be a documentary about fixing my most intimate tattoo – ( for those of you who don't know, Stacia is tattooed on me "south of the border")
Instead, I just said I was happy to be touring the country again, performing at clubs and theaters around the country.
All in all, the festival was a lot of fun. Hanging out with Ted and Susan was amazing (as always) and my bad choices have led to a lot of laughs for me and my son, and more material to talk about on stage.
This link I am including below is titled "Great Life Decisions – Final"
BUT
It is actually the second to last edited version to what is now titled :   Pistachio – A Love Story
For those of you who have been interested in watching this short film (5 min). I hope you find it amusing and I also hope any possible anticipation didn't build up to the point where you are disappointed.
As always, THANK YOU TO EVERYONE who has come out to my shows, volunteered to participate in shows, friended / followed me on social media, and who have subscribed to my newsletter on fliporley.com
Pistachio – A Love Story    ( aka   Great Life Decision )