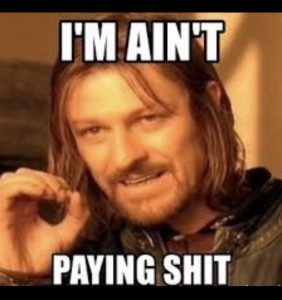 Just Now:  This is kind of a long explanation, but I'll try to be succinct;
I bought 4 new tires several months ago. The business offers free tire rotation for the life of the tires.
I bring my vehicle to a different company for oil changes, because they sell oil changes in packages of
8 oil changes for a pretty good discount (per oil change).
The last time I got the tires rotated (5000 miles ago), the tire company told me they also did oil changes and asked if I would want to get that done while they were rotating the tires. I told them about the package deal I bought for oil changes, but said I might be interested if the price was competitive. The price the tire store quoted was LITERALLY 3 x more expensive than the package deal I bought. I told the tire people I appreciated the offer and then told them what I was paying (per oil change) for the package deal. Their jaws dropped, and they said I should obviously go to the oil change place.
On Thursday (last week) I called the tire store to schedule an appointment for today to get my tires rotated. The guy who answered my call and scheduled my appointment is the guy I have been dealing with since I bought the tires.
Tire Guy: Can I help you?
Me: Yeah I'd like to schedule an appointment to get the tires rotated. 
Tire Guy: Mr. Orley, when would you like to schedule the appointment?
Me: Can we do it Monday at 10 am?
Tire Guy: I got you down for Monday at 10 am to rotate the tires.
Next I called the oil change place and I scheduled an appointment to get the oil changed this week,
Tuesday at 10 am
I got to the tire rotate appointment on time, said hi to the guys I know and then waited for the work to be done. Roughly an hour later they told me my vehicle was ready.
Tire Guy: I hope that didn't take too long.
Me: No problem, I appreciate you getting it done. I have a trip next week to Maryland and Delaware.
Tire Guy: Ok, as you know, the tire rotation is free.
Me: yeah, of course, I love that y'all offer that service
Tire guy: So, the grand total is $105.62
Me –  laughing
Tire Guy: Why are you laughing?
Me: That was funny.
Tire Guy: I know the price has gone up, but that's the price of the oil change.
Me (no longer laughing): What oil change?
Tire Guy: The oil change. You came in to get your tires rotated and for an oil change
Me: No I didn't. I came in to get my tires rotated. In fact, last Thursday when I called, I spoke to YOU. I asked specifically to get the tires rotated and never mentioned getting the oil changed.
Tire Guy: I don't know why I thought you wanted to get your oil changed.
Me: I don't know either. In fact THE LAST TIME I WAS HERE I told you a bought a package deal for
8 oil changes that cost substantially less than y'all charge.
Tire Guy: That's right. I remember that
(then I pull up my phone calendar to show him my appointment for tomorrow to get the oil changed)
Tire Guy: Ahhhhhhhhhhhhhhh, I guess you can probably cancel that appointment
Me: Are you F*cking with me? Did you really change my oil or is this a prank?
Tire Guy: Honestly, I thought you were f*cking with me. No, it's not a prank. We changed your oil.
Me: I fell really bad about that, and as much as I hate saying this; I'm not paying for the oil change.
Tire guy was kind of speechless…………………
Me: The next time I come in to get my tires rotated, y'all aren't going to f*ck up my vehicle, are you?
Once again, long silence.
So, now I'm not sure what to think. I'm not paying $100 for an oil change I didn't ask for. But, I still
want the free tire rotation every 5000 miles.
YIKES